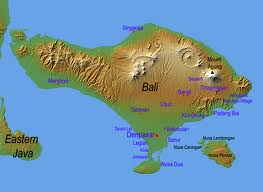 Bali is an island and the smallest province of Indonesia, and includes a few smaller neighbouring islands, notably Nusa Penida. It is located at the westernmost end of the Lesser Sunda Islands, between Java to the west and Lombok to the east, and has its capital of Denpasar at the southern part of the island.
With a population of 3,890,757 in the 2010 census, and currently 4.22 million, the island is home to most of Indonesia's Hindu minority. According to the 2010 Census, 84.5% of Bali's population adhered to Balinese Hinduism while most of the remainder followed Islam. Bali is also the largest tourist destination in the country and is renowned for its highly developed arts, including traditional and modern dance, sculpture, painting, leather, metalworking, and music. A tourist haven for decades, the province has seen a further surge in tourist numbers in recent years.
Ad blocker interference detected!
Wikia is a free-to-use site that makes money from advertising. We have a modified experience for viewers using ad blockers

Wikia is not accessible if you've made further modifications. Remove the custom ad blocker rule(s) and the page will load as expected.